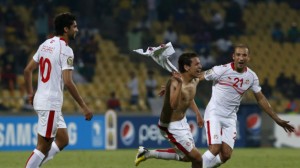 Saturday, in the playoffs of the 2014, Tunisia dominated Sierra Leone on the score of 2-1.
Osama Darragi and Wabhi Khazri scored for the Eagles of Carthage.
Kei Kamara has reduced the score for Sierra Leone.
Tunisia with 9 points is ahead of his group. Hence the satisfaction of his coach Nabil Maloul.
[youtube]http://youtu.be/-n574–5pC0[/youtube]