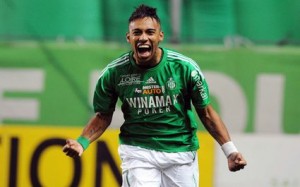 Everything is on track for the transfer of Pierre-Emerick Aubameyang to Manchester City. The English club leaders took a serious option for the file this weekend.
And it is Patrick Vieira, manager of football that has already had advanced contacts with the player's agent, Oscar Damiani and the player's father, Pierre Aubameyang, former player of Lille, Dijon and Monaco and author of 17 goals in the league.
The three sides should rediscover the weekend about the case considered significant. Some clubs have shown interest in this case should by far monitor the transfer.
In France, it is the case of Paris Saint-Germain, and in England, Tottenham or Newcastle, in Germany, Borussia Dortmund are running without forgetting the Italian clubs, AS Roma, AC Milan and Fiorentina.
Viola has already proposed 10 million to enlist the Gabonese.