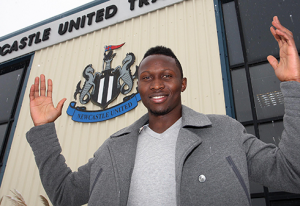 Arrived in Newcastle through the last winter transfer from Montpellier, Yanga-Mbiwa has gradually adapted to his new team and the English game.
Now holder with the Magpies, the Franco-Central African was recalled to the team of France. The international tricolor found colors. This will give him even more motivation.
With the outbreak of Raphael Varane, but also the presence of Mamadou Sakho and Laurent Koscielny, the former Montpellier defender knows that it will not be easy to get the position of holder in the France team.
"I have just learned in Montpellier and I restarted from the zero level. I had to move and I am served, "he said. "We keep, but that's part of learning. I make sacrifices. I garnered experience for next season, as Newcastle wants to become a big English club. "
"If I left Montpellier, it is a step forward, discover a new dimension of competitiveness, have fun in sweating and become holder in blue. Yes, I took a risk, but the perfect time to leave one's formative club does not exist. It is well to start a day. Transfer this summer, one year before the World Cup, was equally risky. In central defense, there is a lot of competition in the Blues. I am the 3rd, 4th, 5th or 6th choice, I have one goal: to get closer to the holders, "he said in the columns of Paris.
"Raphael Varane, I knew him in Ligue 1 when he was evolving with Lens. He was already mature, intelligent in his game, in his moves. He went to Real Madrid, where he worked hard being tuned. We can see the performance today. He is very strong. Jostling? Especially trying to get on top".