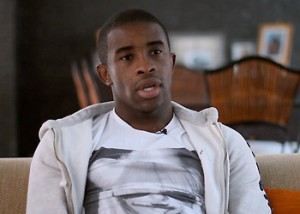 Rio Mavuba is far from lawns since January with a knee problem. The midfielder of Lille hopes to rejoin the competition at the end of April.
The Franco-Angolan took over the race last week. In the columns of L'Equipe, the player said he was inspired by Rafael Nadal during his convalescence. He also returned to his future in LOSC.
"It helps me to look at other sportsmen, this allows being relative. There is a sportsman that I love, it's Nadal. I look a little at how he returned. Having seen what he underwent, there is no reason why I would not come back to my level. Of course, it inspires you "
 
"I am felling better, I have no pain. We can have an interesting end of season. With Lille, our ambition is to be a European, at least to catch Saint-Étienne. "
"Now, what bothers me the most is to resume. But I'm not crazy, I watch what happens. We see through the recruitment that young people will quite arrive. It is important to renew. I have a discussion with leaders and we'll see. '

Rio Mavuba wounded in Saint-Etienne on January 15 in the semifinals of the League Cup, underwent arthroscopic surgery on Jan. 29 in his left knee. His unavailability was then estimated at two to three months. He had already been operated this season at the lateral meniscus in his left knee in early October and was out for six weeks. Aged 29, he was rarely injured in his career. In LOSC, the player of Angolan origin had participated in each of the 38 days of the championship in the previous two seasons.