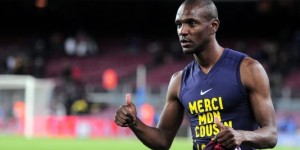 Eric Abidal has graced the lawn on Saturday after a liver transplant.
Entered at the 70th minute of the match in the 30th day of La Liga, Barcelona-Mallorca (5-0), the French defender has plunged the catalonia in an emotion that summarizes his teammate, Alexandre Song.
"Eric is in the group. For the club and for the fans, it was a special day. We had at heart to do well because he came back. Trample the lawn under these conditions, it gave us chills. I'm really happy for him, because he deserves it. It is someone who fights every day. He showed today that we are capable of all when we really want, "said the Cameroonian international of Barça.
The French international has not failed to thank the key people who made this return possible.