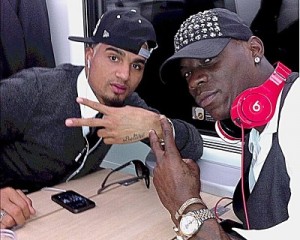 Transferred to AC Milan in the last days of the transfer window at the end of January, Mario Balotelli has matured and found his effectiveness in Italy. The Rossoneri striker seems to have changed since his arrival in the Lombard club. The Italo-Ghanaian continues to fascinate his teammates. Last week it was The Italo-Egyptian Stephan El Shaarawy who did not stop praising Balotelli. This time it was Kevin Prince Boateng of Ghana who defends the image of the nasty bad boy who stuck with the former player of Manchester City.
"Mario Balotelli is a true professional," commented Kevin Prince Boateng in La Gazzetta dello Sport. "Mario is important to us; he is like Ibrahimovic, very physically and technically fit."
"When he arrived, everyone advised me to be careful but he is a nice guy and a hard worker. One day he slept at Milanello to get to work early in the morning, that's a professional behavior, "said Boateng.