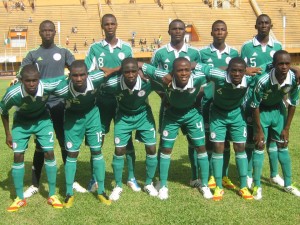 Despite its three players dismissed at the MRI test, the Golden Eaglets of Nigeria did not detail to Ghana, rolled 6-1 in the second match of Group B in the 10th edition of Afcon U17.
Special mention in this meeting to the Nigerian striker Success Isaac who scored 4 goals. On his own, he overthrew the Black Starlets very excited. He began his festival from the 10th minute of play before giving the shot to the Ghanaian defense at the 40th, 63rd (penalty) and 68th.
The other two Nigerian strikers are Bulbwa and Iheanacho in the stoppage time of the match. Yeboah tried somehow to save the honor of his country.
Nigeria takes the head of Group B with three points. After the Congo and Cote d'Ivoire (1 point). Ghana took the rear.
Earlier in the day, the Red Devils and the Elephants were neutralized 1-1.