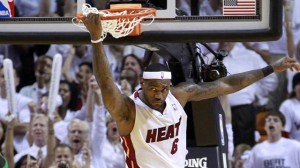 After being stopped in his undefeated streak, Miami found its executioner on Sunday at the American Airlines Arena. But with the combined absences of Noah, Hamilton, Gibson and … Rose, Chicago has not been able to compost an eighth success against Miami.
For this 11th face to face in the era of Tom Thibodeau in regular season, the Heat relied on James 24pts, Wade 22pts and Chris Andersen out of the bench with 15 units to win 105-93.
As might be expected, Luol Deng (19pts), Carlos Boozer (16 pts 20 rebounds) and others have impact in this game. But the courage and solidarity of the franchise of Illinois was not enough against the Floridians.
With a better mastered beginning, the Heat won its fourth game in the regular season against the Bulls.