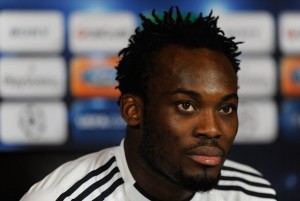 Real Madrid travels to Dortmund to face Borussia this Wednesday in the semi-finals first leg matches of the Champions League.
Jose Mourinho could not count on the services of Michael Essien to lead the midfield. The Ghanaian is forced to declare package. He is considered physically too short and will not perform the journey on the lawn of the Signal Iduna Park.
Essien is not part of the eleven undisputed of Jose Mourinho, but the Black Star still has 22 tenure in 26 appearances in all competitions.
Versatile, the former Lyon player has served this season in the middle and the right back position. The Ghanaian perfectly fulfills the task of man of duty that gave him the Special One arriving in the Spanish capital.