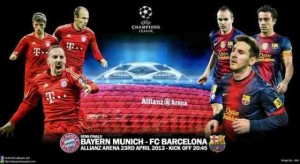 Franck Ribery and his teammates of Bayern Munich were not the only happy with the semi-final first leg match of the Champions League between the Bavarian club and FC Barcelona. Indeed, the French pay-TV channel Canal + has improved its viewership at this stage of the competition.
They were 2.2 million viewers, that to say 34% of Canal + subscribers to follow the slap received by Leo Messi and his partners at the Allianz Arena, 4-0 (video). A number that makes this semi-final match of the Uefa Champions League the most watched on the TV Station and the fourth largest audience in the history of Canal + in Champions League (French club not included).
With these 2.2 million viewers, the French watched the game more than the Germans who were 1.5 million in front of their television. However this audience is far behind the 8.2 million viewers gathered by the Spanish TV Station TVE1.