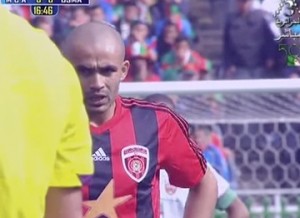 As Africa Top Sports.com has reported, Rolland Courbis has just won his first trophy in Algeria at the head of the USM. Arrived last October, the former coach of Marseille has printed his mark on this training.
He can thank the scorer Mokhtar Benmoussa who scored the only goal of the game with a beautiful free kick in the 18th minute.
Here is the video
Opposed this Wednesday to Mouloudia Club for the final of the Cup of Algeria, the men of Courbis have done the job removing the trophy after an explosive match ended on a score of 1-0. Note the very good performance of Mohamed Zemmamouche, goalkeeper of the USM who has achieved a performance of high class.
It seems that it is the team that has the better prepared this final that prevailed. This is the eighth title in Algeria Cup for USM. A record.
Grande première, the players and leaders of MC Alger after their defeat boycotted the medal ceremony "losers" in the official gallery. An initial in Algeria Cup.
[youtube]http://youtu.be/pfLuakIjiZo[/youtube]