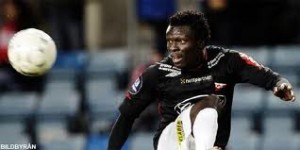 Sought by some European clubs on behalf of the upcoming season, Atakora Lalawélé resurfaced in his training on behalf of the seventh day of the Swedish championship.
The Togolese international who started on the bench has entered in the match in the 84th minute while his teammates had already done the job dominating IFK Göteborg (3-1). And this is the first win of the club with two goals difference this season.
He is seen in Togo as a player for the future selection.
Former player of Libertys Professional of Agbodrafo was present with his club during the first day, but had the victory from the bench. After the seventh day, AIK Stockholm occupies the ninth place with nine points.