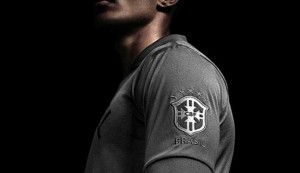 It is a jersey that contrasts with the tradition. The Seleção will be in black!
This is the revolution brought by Nike. The third jersey of the national football team of Brazil contains no color of the Brazilian flag. In launching this new design, the brand with the famous comma wants to make of this jersey an outfit that fans of the national team will wear every day.
We must go back to 1950 World Cup to see Brazil evolve in black.
Other breach of tradition brought by Nike the logo of the federation (CBF). Usually, on the front of the jersey, it is now placed on the sleeves.
The New Jersey will not be worn by Brazil in the Confederations Cup. And because only the national colors are permitted by the federation for the matches of the national team at home. The new shirt will go on sale Tuesday.