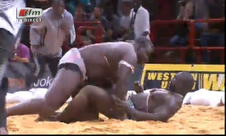 2 minutes! This is the time it took for Bombardier to take revenge on Baboye!
Since 2005, after their first encounter, their rematch was expected. This Saturday at Bercy it took place with the victory of Bombardier that found the flavors of victory.
In the circle of tenors few years ago, the two wrestlers, Bombardier Mbour and Baboye of the stable Hal Pulaar experienced a sharp decline in terms of their sporting careers.
Baboye with his age (34 years) has only one foot in the arena to go into retirement. Where his winner this Saturday with 30 banks intends to return to his best.
He had to do the washing defeat pursued since 2005 against Baboye. This Saturday he seems to resume service in considering after his victory that "his objective is to resume the crown"
A clear message certainly to Balla Gaye who today is the king of arenas II.
A status that Bombardier has already experienced in the year 2002 before being dethroned by Yekini (who beat him three times).
To beat Baboye, Bombardier refused the trap of fighting that had lost in 2005. He waited for his opponent dumped without much effort.
This victory opens many sporting prospects to Bombardier who after being beaten by Tapha Tine, Gris Bordeaux … among others will be quite a customer next season.