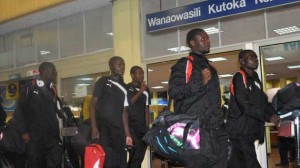 It is not only Togo that experiences problems in organization during its travels. The Kenyan selection traveling to Malawi for the next round of the World Cup qualifying in 2014 had to spend 6 hours at the airport in Lilongwe before finding a bus. In fact, the leaders of the Harambee stars have refused to use the bus provided to them by their Malawian counterparts. And yet, they had not planned their own means of transport.
For the Malawian Federation, there is no question of taking responsibility in this story. They ensure that Kenyans had entrusted to come by Ethiopians Airlines rallying directly Blantyre where the match is to be held on Wednesday without Denis Oliech who faces problems with his coach Adel Amrouche.
Finally, they arrived by the Kenyan Airways in Lilongwe while there is no match to Blantyre by air.
Kenya will also play in Malawi without Victor Wanyama.