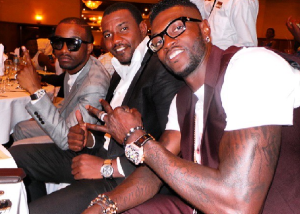 In Congo for the launching of the foundation Fally Ipupa, Emmanuel Adebayor has announced his intention to build a sports training center to help young athletes: "I will speak with the Congolese Minister to see in which field we can help Congo in the domains of training, the funding of the training or of the construction of a training center for youth sports. Because it's been ten years since I am a top player. If we can come to advise the youth in sport to help them succeed it is with pleasure ", said the Togolese international at the end of a hearing with the head of the Congolese State Saturday night in Brazzaville and relayed by Apanews .
The Spurs Tottenham striker is delighted to meet the President of Congo Brazzaville; Dennis Sassou Nguesso who he estimates beside "because he is one of the leaders who have marked Africa."
"I've always wanted to meet people like him and today is one of the more appreciative moments of my life. For 15 minutes we talked about football. I realized he has knowledge in the football field because he knows all the players, the rules of football, it touched me, "he added.
The former Arsenal player wants to associate with the daughter of the Congolese President Ikia Sassou who also has a foundation to help the Congolese and the Togolese.
"We will find the right words, the right ways to work together to help our brothers of Togo and Congo because in the foundation, we talk about how to find ways to help people," revealed Adebayor.