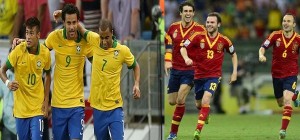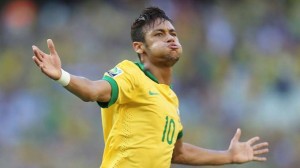 The poster, Brazil-Spain, required for the final of the Confederations Cup will reach its denouement on Sunday. A final nugget that the Brazilian Neymar greatly hopes "It will be an historic day. This will be one of the best games in the history, "said the striker of the Selecao.
"We know the importance of this meeting in the history of Brazilian and world football not only for players but also for the spectators. The whole world wanted this game, he says. We have the opportunity to make a great game against the best in the world. On the ground, we have to be imperative and play our game"
Before the 2014 World Cup, Neymar has the opportunity to win his first trophy with Brazil, holder of Confederations Cup titles. But facing the Roja, the world champion and double European Champion , the task will not be easy for the future Barça striker and his teammates. Despite an outrageous domination of football, the Spanish players "have-yet-dreams and hopes," announced their coach Vicente Del Bosquet.
And the aim of handling a first trophy of the FIFA Confederations Cup is on pole. It is the mythical temple of the Maracanã (Estádio do Maracanã, Rio de Janeiro) that is going to be the lair of this dream poster at 22h UT (19 am local time).
Who should win?
Confederations Cup … For Africa…
Coupe des Confédérations Neymar espère une victoire historique Africa Top Sports