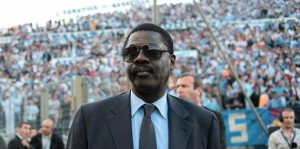 Pape Diouf is still so attached to Olympique de Marseille. The former president of the club has expressed himself in the columns of "La Marseillaise" on the new season of his lovely club. The Senegalese warns the current leaders of Marseille against the consequences of a sale of Nicolas Nkoulou.
"I cannot talk and I do not have the right to be at the place of Vincent Labrune. Everything is a matter of context, the reality of the moment, but I've never seen a non-transferable player. The error of RLD, after he recognized, was to have sold Drogba at the time, we got a nice amount of money, but we did not we have not, despite a good recruitment, managed to replace him and all season, we heard "Drogba, Drogba", he has said.
Diouf, who has a difficult relationship with Jose Anigo also gives his predictions. He sees Marseille for the second year running second in League 1: "Paris seems the best equipped, the best structured for the moment. Monaco may need this first year as needed PSG and Montpellier which has benefited. I see 1. Paris, 2. Marseille, 3. Monaco. "
Not sure on this last point, the fans will agree with him.