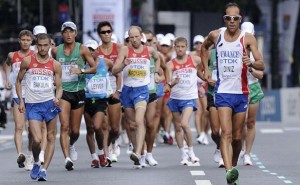 FFA (French Athletics Federation) announced on Monday its selection for the next World championships of the discipline. This secondary to the championships of France held during the weekend and which in particular saw the coronation of Jimmy Vicaut in the sprint. The runner Christophe Lemaitre is also present.
Teddy Tamgho, France champion in triple jump is also among the 40 athletes selected. In women, Antoinette Nana Djimou in the heptathlon and Myriam Soumare in the 200m are present.
The list is not yet closed. Other athletes still have until July 29 to make the minimums.
MEN
100m Christophe Lemaitre, Jimmy Vicaut.
200m Christophe Lemaitre, Jimmy Vicaut.
800: Pierre-Ambroise Bosse.
1 500m Florian Carvalho, Simon Denissel Bouabdellah Tahri.
Marathon Benjamin Malaty.
110m hurdles: Pascal Martinot-Lagarde, Thomas Martinot-Lagarde.
3 000m steeplechase Yoann Kowal, Mahiedine Mekhissi, Noureddine Smail.
Height: Mickael Hanany.
Perche Lavillenie Valentin Lavillenie.
Triple jump Teddy Tamgho, Yoann Rapinier.
Decathlon: Kevin Mayer.
20km walk: Kevin Campion, Bertrand reel.
50km walk: Yohann Diniz.
4x100m: Christophe Lemaitre, Jimmy Vicaut, Emmanuel Biron, Arnaud Remy.
WOMEN
200m: Myriam Soumare, Johanna Danes.
400m: Marie Gayot.
5 000m: Sophie Duarte.
10 000m Christelle Daunay.
Marathon: Carmen Oliveras.
100m hurdles: Cindy Billaud, Alice Decaux, Reina-Flor Okori.
Length: Eloyse Lesueur.
Perche: Marion Lotout.
Disc: Melina Robert-Michon.
Heptathlon: Antoinette Nana Djimou
4x400m: Phara Anacharsis, Marie Gayot, Floria Guei, Lenora Guion-Firmin, Muriel Hurtis.