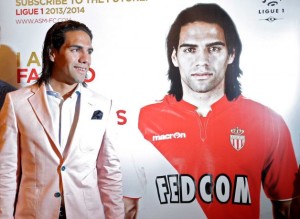 This is a case that could soon turn into a scandal. Radamel Falcao lied about his age. It is Noticias Uno, a Colombian media, which revealed it. "El Tigre" was in fact born in 1984 while on his papers, Radamel Falcao Garcia Zarate was born on February 10, 1986 in Santa Marta, Colombia.
So, the new star of Monaco would not be 27 but 29. For a player who costs 60 million to Rock club, this is a detail that could reduce this amount. This practice is not surprising as it is common in football. Examples include legions of the black continent. And while Africa was most often singled out, this is a case that could help take a look at South America, apparently as adept in this area.
West 28 years instead of 40?
Remember, a few weeks ago, we unveiled the charges of Zarco Zeceviv, former president of Partizan Belgrade. The Club in which has evolved Taribo West. The Nigerian is accused of having significantly reduced his footballing age. West would have been 40 years old at the time of signing the Serbian club but said he was 28.
Other players like George Weah have also been the subject to such accusations. And when we realize that it starts at a young age, it is not ready to stop. 9 players were excluded from the Afcon U17  early this year.