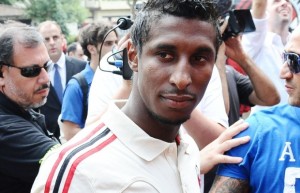 Another act of racism in Italy. And it's AC Milan at the heart of the matter. The Guinean midfielder of the Club, Kevin Constant has been the target of racist shouting of the public of Sassuolo where the Rossoneri training was playing a friendly match.
While he must make a throw-in, Constant was treated by all bird names in these cases. He gets angry and shoots the ball in the tribunes. He asked to leave the field and was replaced. These images recall others similar experienced last January by the Ghanian Kevin-Prince Boateng with AC Milan. He had left the field and the match was interrupted.
Since then, FIFA and UEFA have stepped up the fight against this scourge. In vain till now. For the record, Milan lost the match 2-1.