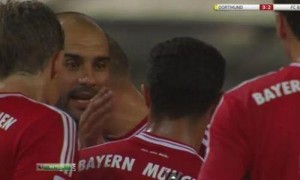 Pep Guardiola has not enjoyed the benefit of his man Thiago Alcantara on Saturday in the Supercup of Germany (4-2 defeat).
Led 3-2 in the 76th minute and enjoying a break of dehydration, the Bavarian coach gives some instructions to his players. When suddenly, a slap just landed on the left cheek of Thiago Alcantara.
The former Barcelona who signed in Munich a week ago was not in shape in the match. Obviously the slap has not changed since the fourth goal is caused by Thiago who lost the ball in midfield and allowed rapid attack against of Borussia for the goal of Reus.
Also notice that the methods of Guardiola are not very effective.
[youtube]http://www.youtube.com/watch?feature=player_embedded&v=gyFwEIf3p9M[/youtube]