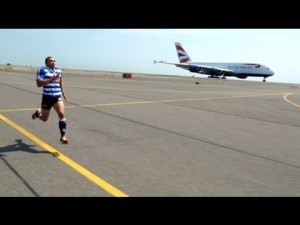 10" 05 on 100 m, 50 trials in 86 caps for the Springboks, these are some statistics of Bryan Habana.
The South African winger who is committed a while ago with RC Toulon is simply a reference to his post, and Clermont Napolioni Nalaga – top scorer of the previous Top 14 championship – may be worried for his title .
Ready to meet the challenges, the neo-Toulon tested his speed against a plane, the Airbus A380 of the British Airways.
In 2007, he shared the line against a cheetah (beaten only in the last ten meters). So for you between Habana and the aircraft, who won the sprint? Do you have your favorite? Whatch the video…
[youtube]http://www.youtube.com/watch?v=P66ISniQCqY[/youtube]