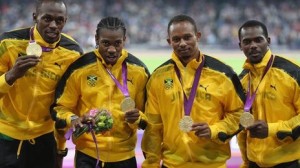 The Jamaican athletics team seems more than ever in the crosshairs of the anti-doping. A few days before the opening of the World Championships in Moscow, the International Association of Athletics Federation (IAAF) is increasing efforts to combat doping.
Before the kickoff of the 14th World Athletics Championships (August 10-18), the World agency for doping control carried out an inspection of any national team in Jamaica. The 44 athletes comprising the team have been tested, including Usain Bolt.
"All of our athletes have completed the screening process in full compliance with the WADA rules," commented Dennis Gordon, head of the Jamaican media selection, quoted by the Jamaica Observer. And to specify that the control had required nearly an hour for each athlete.
Hunting having been successful in the past weeks (40 suspensions in Russia, 31 in Turkey), the method of systematic sweep runs. After the positive tests, which have recently undergone the former world record holder Asafa Powell as well as the double Olympic champion and world champion Veronica Campbell-Brown, suspicion weighs each day a little more around the team of Usain Bolt.