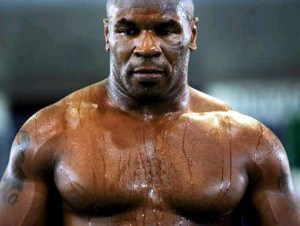 Mike Tyson, the former world champion heavy weight is wrong, very is sick. He admits having been addicted to alcohol.
He just tells the world: "I am about to die because I am suffering from a vicious alcoholism, Tyson launched at a press conference in New York. I did not drink or take drugs in six days, and for me it is a miracle. I lied to everyone who thought I was sober. This is my sixth day of sobriety. I'll never touch it. "
"I'm a bad boy sometimes. I did a lot of bad things and I want to be forgiven. I want to change my life. I want to live a sober life. I do not want to die. "
Having boxed, looked quite for his way, the former terror of rings, the heavyweight champions Mike Tyson launches into cinema as Africa Top Sports.com had reported a few days ago. We then ignored his health problems.
And for his first role, he chose Africa!
It should normally shoot a movie in a month hence in Oran the movie entilted"Algeria forever" "directed by the French director Jean-Marc Minéo.
The film would hit theaters in 2014. It is produced by Zakaria Ramdane of "Access V Production". The film tells of a plot against the Algeria of nowadays. A supporter of the OAS, illegal structure which was designed to maintain the French Algeria, moved to Oran where he created a mafia organization to hit the country. But he faces a super secret agent, martial arts expert, ready to do anything to defend Algeria and destroy this organization.
Mike Tyson had the opportunity to discover the beautiful French singer Lorie – "The Positive attitude"and the funny comedian Smaïn.
Mike Tyson is 47 years old. Last year, he performed in several American stages a one-man show entitled "irrefutable truth", recounting the ups and downs of his career twists.
He became in 1986 at the age of 20 the youngest world champion in the heavyweight history. But after his life has become a real novel: prison for rape, drug addiction, fights.
We cannot wait to find out this in this new role …
That means he has overcome his problems with alcohol…