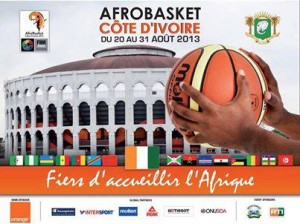 They are just eight to claim the title of champion of Africa in 2013 basketball. With the exception of the Tunisian champion and eliminated by Egypt, all the favorites are waiting for the quarterfinals which is going to be played on Wednesday.
Morocco, difficult winner of Algeria in the eighth-finals, crosses the path of the runner-up in Africa: Angola. Crowned with its ten trophies, Angola stands as the major favorite of this 27th edition of the Afrobasket. Younes Idrissi and his teammates must take the high road to stop the Angolan group that hurts Mali in the previous round.
Egypt, executioner of Tunisia, crosses the path of Cape Verde, for a good quarter undecided. If the Pharaohs are gaining momentum, however, they will remain involved throughout the match against the Blue Sharks who showed their mental strength to reverse a bad board position against the Congo.
Ivory Coast-Cameroon, where the discussion between the two best defenses in the tournament. 215 points conceded for the Elephants, huge against Burkina and 211 for the Lions. This poster is one of the classics of African basketball. Beaten in the semifinals in 2009 (Tripoli), Cameroon took revenge in 2011 (Madagascar) in the group stage. With the challenge of earning a chance take part in the world cup in Spain (editor's note, the first three are qualified), this game will be hotly contested. It will advisable for the winger of the Bucks (NBA) Luc Mbah and his teammates to ignore the pressure from the Palais des Sports Treichville that may secure the semis to Mohemed Koné and co. accustomed to a bad start, the Elephants should erase that bad habit to avoid plunging the country into sadness.
Always well placed but never on the highest step of the podium, Nigeria will face Senegal. Best attack, the D'Tigers atomized Central Africa (112-75) in the second round. With its interior Ike Diogu ready for shoot and rebound, Nigeria stands as favorite provided that its defense resists to the Senegalese Lions.
Note that the dismissed teams of knockout will clash for the general classification of this Afrobasket.
Program of the quarterfinals
12H 30: Angola-Morocco
15H 00: Egypt-Cape Verde
17H 30: Ivory Coast-Cameroon
20H 00: Nigeria-Senegal