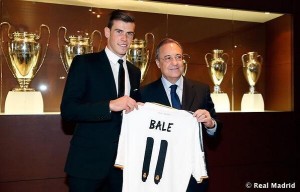 Watching the Gareth Bale presentation, the big question is where will he play? Not on the left wing, presumably, where Cristiano Ronaldo is rather well established.
"And maybe not as an attacking central midfielder, either – Isco has been brilliant in that position in the opening weeks of the season, scoring three goals in the first three games. Instead, Bale's best chance of establishing a regular starting spot for his new club could well come as a modern-style 'inverted winger' on the right flank, giving him the freedom to cut inside an unleash those long-range left-footed missiles.
Discussion on Spanish television covering his presentation has been along those lines, and it will be fascinating to hear Carlo Ancelotti's thoughts on the subject at his next press conference – he has refused to address the issue until now.