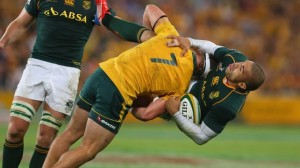 Bryan Habana could be seriously injured. Saturday during the Rugby Championship, the South African was victim of a tackle but really regulatory from the Australian Michael Hooper.
Habana who intercepted a pass from his teammate Pienaar headed towards the defense of the Wallabies, but was stopped by Hooper. Habana's feet take off the ground and he falls on the ground on his back. Most surprising thing for this gesture that would have been worth a card for the author, Hooper was not penalized. Without warning.
Some moments earlier, he had left his teammates outnumbered for a card. Australia bowed 12-38. This may explain the actions of Hooper.
See the video of the action
[youtube]http://youtu.be/-X-g7UvCSRo[/youtube]