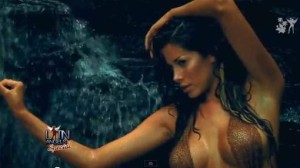 As reported to you yesterday by Africa Top Sports, Mesut Özil has left Real Madrid to join on the last day of the Mercato Arsenal.
It was thought that the German had left Spain to avoid competition with Gareth Bale in Madrid, but he said that his private life also began to irritate his leaders.
The player had fallen in love with a bomb, Aida Yespica who drove him crazy. For her, he was able to join her at any time, or almost abroad …
The 24-year old player was almost on his knees before the former Miss Venezuela Aida Yespica (31 years).
The Real Madrid president Florentino Perez supports his former player: "Ozil has quickly yielded to the temptations offered by a city like Madrid. The player would be transformed. Mesut discovered the real life and was obsessed by women, something he did not know before. Having an interest for Women is one thing, but I'm talking especially of his long nights of all the hours he was not in bed. When the manager came to see me to ask me a salary increase to € 10 million per year, I immediately packed him off. "
Mesut Özil is no longer with her, but he soon resettled with Mandy Capristo, a German-Italian singer, star of the German television.
The only problem is that she has no intention to settle with him in London.
It may be complicated  very soon again…
[youtube]http://youtu.be/_YIHNcU-nBs[/youtube]