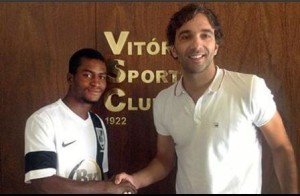 Ghanaian-born Burkina faso player Nii Adamah plange has admitted that he was assured of playing time at Vitoria Guimaraes that is why he agreed to sign for the portuguese side. Adama joined the little whites in a late summer window transfer from Sporting Lisbon.
"Vitoria Guimaraes gave me good indications and assured me that I will have more playing time that was why I signed for them," he told Expresso. "They were my first choice and I hope to make a good impact," the 24-year-old added.
Plange started his career in Ghana with renowned football academy, Gomoa Feteh Feyenoord, before moving to Ivory Coast and later naturalising for Burkina Faso, where he made his debut in 2011 in a friendly against South Africa.