If yesterday Yaya Toure stole the show from all the African internationals with a classic goal for the victory of his team against Viktoria Plzen 3-0, Wednesday could see other representatives of the continent shining. Forces expected!
The advantage of this second night of C1 will obviously be at the side of the Stamford Bridge where the beginnings of Samuel Eto'o are expected. The Cameroonian striker who joined the Blues this summer knows that competition on the fingertips for having already won three times ( Barcelona and Inter Milan). The opportunity to also win again with his new band. This was not the case last Saturday in the Premier League.
If Eto'o shines, it could portend a bad night for Demba Ba. The striker already not in the plans of Jose Mourinho could watch from the bench the performance of his illustrious elder. But not enough to start his determination to stay and succeed with the Blues.
The beginnings of PEA!
Marseille finds again Arsenal two years later at the same stadium of the competition. The Phoenicians are welcoming the Gunners at the Velodrome with the intention of a good start to the tournament. They can then rely on their Ghanaian midfielder Andre Ayew . Coveted this summer but finally decided to stay.
The attraction will be for Wednesday's debut of Pierre- Emerick Aubameyang in the most prestigious competitions. The Gabonese goes with Dortmund to Naples with the firm ambition to succeed in this competition as he has already started so well in the Bundesliga. His brace against Hamburg last weekend attests it.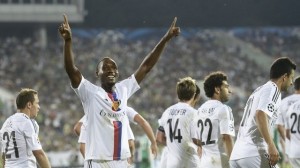 Besides its stars of the continent, a few nuggets will amaze the world of football tonight. It is about FC Basel with its Africans. The Egyptians Mohamed Salah and el Nenny and the Ivorians Giovanni Sio (in picture left) and Serey Die will face the Blues . Or the Ghanaian Kevin Prince Boateng whose departure to Schalke 04 has not dampened his enthusiasm on the ground.