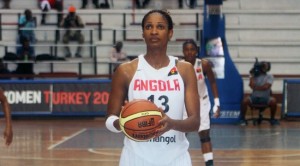 Angola is out of the Kenyan trap. The defending champions have validated their third success in Afrobasket in the last quarter time at the expense of catchy team of Kenya, 45-39.
The Kenyan Rose Ouma (11pts, 6 rebounds) and her teammates took the comparison in the first period and return to the break even with a small advantage, 16-17 (9-9 Q1, Q2 7-8). At the end of the third quarter time, the two teams are tied 31-31. Clarisse Mkapa (14 pts) and Nadir Manuel (6 pts 11 rebounds) backed by Nacissela Mauricio (13 pts, 5 rebounds, 1 pd) off the bench eventually made a difference in the last ten minutes (14-8).
Angola recorded its third victory, but not reassuring. A little earlier in the groups (B), Cameroon, also undefeated, got rid of Cape Verde. Angola and Cameroon will face the next day.