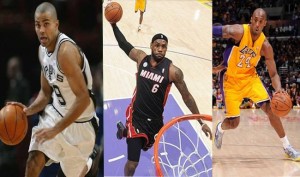 The U.S. magazine Sports Illustrated released its Top 10 dominant players in the NBA. Only one non-American player is included in this classification.
Not surprisingly we can find at the top of the Top 10 LeBron James, the quadruple MVP and double champion with the Miami Heat. The franchise in Florida has two members of its Big Three in this ranking. Besides the best sportsman of the year 2012 (according to the same magazine), the Heat is represented by Dwyane Wade. The appearance of Flash in the Top 10 is not shared by Kevin Durant, Dolphin to King James. The Thunder winger believes that James Harden deserved more than D-Wade therein.
The recent Eurobasket MVP, Tony Parker, European champion with France and finalist with the NBA Spurs is also included in the podium and raises debate. The new Rockets center Dwight Howard ranks seventh and his former Los Angeles Lakers teammate Kobe Bryant appears in ninth place, ahead of Carmelo Anthony.
The complete Ranking
1st LeBron James (Miami Heat)
2nd Kevin Durant (Oklahoma City Thunder)
3rd Chris Paul (LA Cipplers)
4th Tony Parker (San Antonio Spurs)
5th Russell Westbrook (Oklahoma City Thunder)
6th Tim Duncan (San Antonio Spurs)
7th Dwight Howard (Houston Rockets)
8th Dwyane Wade (Miami Heat)
9th Kobe Bryant (LA Lakers)
10th Carmelo Anthony (New York Knicks).