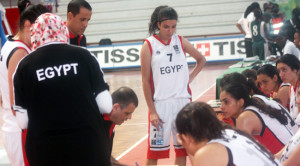 Despite the double-double of Nesrine Taïbi (21pts, 10rbds), Algeria is not in the top 8 of the Afrobasket. Egypt, which is back in the saddle with its victory over Zimbabwe yesterday, has won 62-72 on Wednesday and snatched the ticket.
In this game of fear between the two selections misclassified in group A, Nadia Isli (11pts, 5rbds, 3as) and her teammates failed to handle the 2nd and 3rd quarter times (16-22 Q2 21-26 Q2) sufficient for the Egyptians take off.
After a balanced start (9 over the first quarter time), Egypt with three players with 13 points or more, including Osama Reem (21 pts), took charge of the meeting in the next twenty minutes. The last quarter time concluded 16-15 in favor of the girls of Sofiane Boulaya will not change the outcome of the Maghreb derby. Egypt thus picked up the last ticket to the quarterfinals of group A.