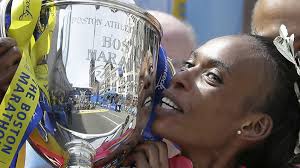 After the Boston title she won this year in April, the Kenyan Rita Jeptoo got another title during the Chicago Marathon with a time of 2:19.57. She was followed by Jemima Sumgong Jelegat and the Russian Maria Konovalova.
"I feel good, I'm happy", said Jeptoo. "This year I trained very very good because I was training with a new coach. I was not 100 percent thinking I am going to win but because of training I ran good".
After a major tragedy like Boston, security was heavily increased and it attracted 40,000 runners although the Boston Bombing was in the back of their minds.