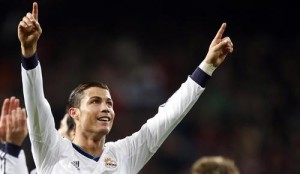 This is the controversy of the week. Sepp Blatter FIFA President said preferring Lionel Messi to Cristiano Ronaldo and caused a public outcry. But like any good footballer hit in his own love, the Portuguese striker responded to his way … on the ground. Real Madrid away Wednesday in Sevilla (7-3) in the league, gave a performance at the Bernabeu. And Ronaldo scored a hat-trick.
The former Manchester United, supported by an entire stadium, first converted a penalty kick to hand the advantage to his team at the break with 3-2. Then a real festival in the second half. Cristiano Ronaldo scored two more goals. Final score 7 goals to 3. A crazy game!
Gareth Bale also made a doubled as well as Karim Benzema who has recovered all his feelings against the Andalusian club. Despite these goals, he also delivered 2 assists. A completed evening for Real Madrid and the Sepp Blatter folder in which is also involved the Portuguese government may now be closed!
See Goals of the match!
[youtube]http://www.youtube.com/watch?v=QzbUsVfA-8M[/youtube]