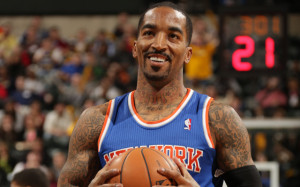 According to Nba.com Knicks guard J.R. Smith returns from his five-game drug suspension and will come off the bench.
"Yeah, I can't wait," he said. "It's going to be a big game."
Knicks coach Mike Woodson said Smith probably won't play more than 30 minutes.
"He might be the first guy off [the bench]," Woodson said. "A lot of times it's based on my personnel, my rotations. He'll be one of the first ones off the bench."
The San Antonio Spurs are hosting the New York Knick tonight at 12 P.M. ET.