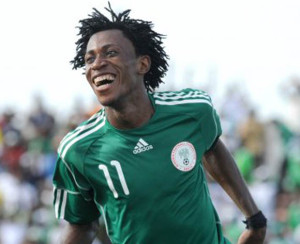 Africa Top Sports reported a few hours earlier that Nigeria's international winger Nnamdi Oduamadi sat out of Super Eagles' Wednesday afternoon training session due to an abrupt illness.
To the delight of the Oduamadi's fans of Nigeria, A team official told KickOffNigeria.com that the player was treated for what looked like a slight fever.
"I'm feeling better now," Oduamadi told KickOffNigeria.com later on Wednesday night.
Remain to see if he will be strong enough to qualify Nigeria to the 2014 Fifa World Cup Brazil in Saturday's game.