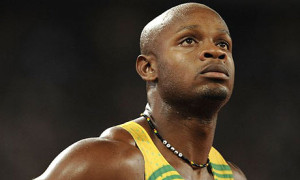 Jamaican Asafa Powell tackles his fitness coach. The former world record holder in the 100m, tested positive for a performance-enhancing drug in late June 2013, repeated Wednesday at Kingston having taken dietary supplements on the advice of his fitness coach, Christopher Xuereb.
"After several days of eating nothing in the morning before leaving for training, (Xuereb) told me that I should take better care of myself and then recommended I take these supplements" , said Powell before the disciplinary Committee of the Jamaican Agency against doping. Powell was heard with the status of witness for ten minutes under the instruction of the case of his training partner, Sherone Simpson, also accused of doping. The Powell file will be instructed Tuesday.
The Olympic champion of 4 × 100 m relay in 2008, said he did not know that Simpson had used the same dietary supplement as him. "I do not know, I learned it at the time of the announcement " of their positive test during the Championship in Jamaica , he recalled.
For his part, Simpson explained that Xuereb had advised him several supplements, including Epiphany D1, the only one she did not know. She then searched in the internet for information about this product, but " found nothing alarming or disturbing," said the 2004 Olympic 4 × 100 m relay champion.