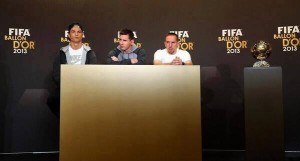 D-Day for the election of the Ballon d'Or 2013. Cristiano Ronaldo, Lionel Messi and Franck Ribery are finalists. So the three competitors were at a press conference there a few moments before the start of the ceremony in Zurich. Mutual respect was set between the 3 players. Extracts!
Ronaldo: "I'm already very happy to be on the podium. For me, this is a great victory. I am happy to be here. I will not lie, we all three want to win. But as I've said, what I want is to give the best of myself. "
Messi: "Being here is already a reward. This is the seventh time I participate in this gala. This is already more than enough. I hope to win another Ballon d'Or, but being here is already an immense joy".
Ribery: "I am very happy to be here. I am happy to accompany Lionel Messi and Cristiano Ronaldo. I am convinced that all three are great players. I want to win the Ballon d'Or, but being here is a great reward."
In Africa, the choice has been already made!