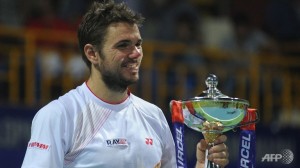 There should be a first this Sunday on the Rod Laver Arena after the men's singles final of the Australian Open which pitted Rafael Nadal to Stanislas Wawrinka. Either Nadal to become the first player in the Open era to win at least twice every Grand Slam or Wawrinka to brandish his first trophy of a Major tournament. For his first final in this category, the Swiss who had the honor of lifting his first Grand Slam trophy after a win in 4 sets in after 2 hours 21 minutes, faced in the final a Nadal diminished by a back pain since the second inning.
While the world's No. 1 had a physical glitch back in the second set. But that does not diminish the performance achieved by his opponent on Sunday. After starting ideally his thirteenth face to face on the circuit with the Spaniard by winning the first two sets, 6/ 3, 6 /2, Stanislas Wawrinka loses the next round, 3 /6. But the World No. 8 was not distracting and concludes on the final shutout clinching the trophy and his first victory over Rafael Nadal, 6/ 3, 6/ 2, 3/ 6, 6 /3.
Nadal remains at 13 Grand Slam, while Wawrinka holds his first and became the first player since 2009 Del Potro (U.S. Open) to challenge the domination of Nadal, Djokovic, Federer and Murray at a Major tournament. The Swiss leaves in style in Melbourne with title and messes up the ATP ranking. He will become as of this Monday, the world number three behind Nadal (No. 1) and Djokovic (No. 2) that he also beat in the Australian Open.