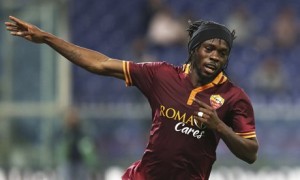 Last Wednesday he was already the hero of the shock AS Roma – Juventus in the quarterfinals of the Italian Cup. On an acrobatic goal, Gervinho was the executioner of the Old Lady. But the Ivorian is in great shape since the beginning of the season. This Sunday, Roma was traveling to Verona to face Hellas (3-1).
Struggling for half an hour, the team of Rudi Gracia found the flaw just before the break. Gervinho defies three defenders before serving Ljajic in the penalty box. From the restart, Hellas Verona equalized. But Gervinho is still there to get the Louve safe. After recovering a ball from the corner, he dribbles the opposing defense before placing a shot into the side netting.
This is his 5th goal of the season. Coming into play, Francesco Totti exacerbates the advantage.
[youtube]http://www.youtube.com/watch?v=R0VW0DYCWwI[/youtube]
[youtube]http://www.youtube.com/watch?v=JlXuWdCC10Y[/youtube]
[youtube]http://www.youtube.com/watch?v=FkmX_OTvB-U[/youtube]