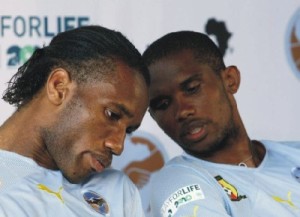 In an interview he gave to the newspaper Le Monde, Samuel Eto'o has praised Didier Drogba. According to the captain of the Indomitable Lions, Drogba is a living legend.
"Didier Drogba is a legend for what he did. This is something unique. He enabled all African players who came here to be respected, said Samuel Eto'o. But we will not compare. I do not have to look at what Didier did."
The two strikers will have the opportunity to cross during the knockouts of the Champions League pitting Chelsea to Galatasaray. On this occasion, the elephant will return to his former club, where he was voted best player in history.
"Stamford Bridge is my house. I might score eyes closed, had told Didier Drogba. My history with Chelsea ended in beauty and I think the fans really appreciate what I did there. I loved my time here, I loved the fans and I still love it. But now I am a player of Galatasaray and I will give everything for this team."