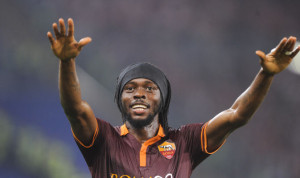 Gervinho never ceases to amaze in Italy, Serie A since he signed for Roma last summer.
In an interview with the French sports daily L'Equipe, coach Rudi Garcia said he gets along well with Gervinho.
"He knows me well and he gives me total confidence. It is someone who teaches me a lot on the field and outside. If I could make my career with him, it would suit me very well. At his side, I feel serene, comfortable and released. Our relationship is like that between a father and his son," said the Roma coach.
At Roma, the Ivory Coast international has attracted more than one with its swaying dribbling and lightning acceleration. The former gunner scored 5 goals and counts 7 assists issued. The player refers to the source of his performance "When you trust everyone, this is easier. When I have the ball, there is nobody to put pressure on me because everyone knows I can make a difference. When I try a gesture or a dribble, it's not for fun or entertaining the public, it is to move forward, to be effective."
Although he did not shine in the colors of Arsenal, where he scored 11 in 63 games over two seasons, the player did not budge either. "I draw a positive balance of my adventure in London. I had always dreamed of playing for Arsenal and I had a great time there. It's just a shame not to have had more game time but it is not a failure. All Championships can match my skills, I just need confidence. Premier League is more physical and intense while in Italy, there is less space," he says in the columns of L'Equipe. The goal for this season is very clear, it is to qualify for the Champions League:
"From the beginning of the season, we had set as goal the qualification for the Champions League. If we can do better, we will not miss it. After doing it in Lille, I came to Rome to win titles."