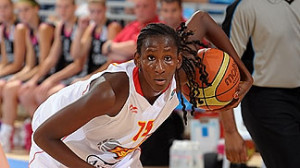 FIBA Europe revealed Wednesday the result for the election of the best young women basketball player of the year 2013. The prize went to Astou Ndour.
Member of the 5 majors of the world championship of women basketball in which Spain finished off the podium, Spanish interior makes a complete 2013 with this coronation.
Of Senegalese descent, Astou Ndour (1.96m pivot, born 22 August 1994) will propel her adopted country on top of European basketball in her category in Turkey. She won the Eurobasket U20 and was elected MVP of the competition averaged 17.3 points, 9.8 rebounds per game.
She advanced on the Podium French winger of Beninese origin, Ayayi Valerian, vice-world champion U19 ranking second and Artemis Spanou (3rd Greece).
Here is a best of Astou Ndour at FIBA World Championship U19
[youtube]http://www.youtube.com/watch?v=qwEYBMatdKI[/youtube]
The entire ranking
1. Astou NDOUR   (Spain)
2. Valerian Ayayi  (France)
3. Artemis SPANOU (Greece)
4. Dalia BELICKAITE (Lithuania)
5. Francesca DOTTO (Italy)
6. Mariya PAPOVA (Belarus)
7. Aleksandra CRVENDAKIC (Serbia)
8. Leticia ROMERO (Spain)
9. Olcay CAKIR (Turkey)
10. Olivia EPOUPA (France)