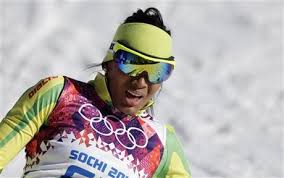 The first words of Amivi Mathilde Petitjean. Arrived 68th of 75 athletes competing at 10km classical cross country skiing in Sochi, the first Togolese athlete to align at the start of a race at the Olympic Winter Games has suffered (AP Photo / Gregorio Borgia). Evidenced by this comment dropped into the flow of support of her fans on her Facebook page.
In a moment of forgetfulness, "Oh my God! It was really hard for me, my legs are dead! Oupss pardon! I have to speak in French! It's over the interviews but it was hard as hell ahhhh my legs. Shit never a track like that!".
Later, having probably caught her breath, she reflects on her experience in the Olympics, "Thank you everyone for all the encouragement throughout the months prior to the games, during the week and even this day. They have really touched me and I think they even allowed me to hang until the end of the race and I do not know how to thank you. I am bombarding you with THANK YOU! You were still great, big THANK YOU once more."
In Togo, rank does not matter. She made an entire nation proud. Up to Alessia Afi Dipol, thje other representative to illustrate. It will be on February 21 at the slalom in Alpine skiing.