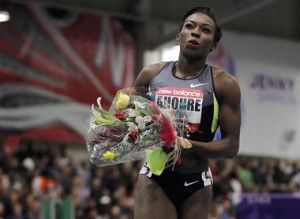 Murielle Ahouré catches spirits before the championship of the world indoor in Sopot to be competed from March 7 to 9. The Ivorian, vice-world champion in room (60 m) and holder of the best performance of the season (7" 03 achieved in Houston February 1st), won, like last year's meeting in Birmingham indoor Saturday.
Ahouré Murielle, double silver medalist at World Air in Moscow, beat on finish photo Jamaican Shelly-Ann Fraser-Pryce double world champion in Moscow. The two rivals have browse 60 m 7" 10.
The Columbian Asha Philip finished third with a time of 7" 12.
[youtube]http://www.youtube.com/watch?v=tpRAc-epYLc[/youtube]