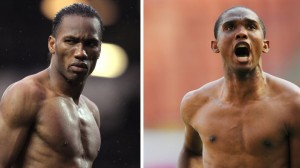 We were awaiting a show. But the shock brought forth a mouse. Both in the field and sampler, Didier Drogba and Samuel Eto'o did not happen to decide Wednesday in the knockouts first leg of the Champions League between Chelsea and Galatasaray (1-1). The African top two Champions League scorers have made their games. Each in his own way.
First surprise of the evening, the compositions. Samuel Eto'o is a substitute while Didier Drogba starts the game. But the Ivorian could snatch almost no occasions during the past 80 minutes on the pitch. Only glow, a pass to his captain Selçuk Inan who failed to bring smile.
Also expecting a lion, we saw one but not the one we expected. While Aurelien Chedjou equalized the 61st, his captain Eto'o of the selection came into play in the 68th. He became more available to the public. José Mourinho asked him to make a defensive work on the right side while Chelsea was suffering from Turkish pressure.
Filled contract for the former Barcelona who was rather pointed in the mixed zone after the match. His response to the words of Mourinho is more remarkable than his passage on the field.
Return leg on March 18.