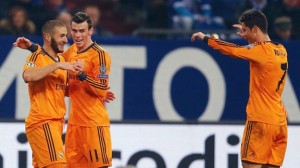 Real walkover of Real Madrid Wednesday in knockout round of the Champions League against Schalke 04. The Spanish club very easily won 6-1 away and already has both feet in the quarterfinals. Offensive stars of the Merengues regaled.
Starting with Benzema who from the 13th minute saw the flaw to open the scoring. He will be imitated by Gareth Bale in a beautiful action. Score 2-0 at the break.
Having wasted several chances in the first part, Cristiano Ronaldo goes into action and scores a third goal. He then served Benzema for his double to make it 4-0. Then Gareth Bale also made his daily scoring a brace. But it was not finished. Cristiano Ronaldo also scored a second personal goal to complete the Spanish party.
Late in the game, Huntelaar reduced the score for the honor. Return leg in two weeks.
For your pleasure check out all goals of the match!
[dailymotion]http://www.dailymotion.com/video/x1dipmd_schalke-04-0-1-real-madrid-goal-karim-benzema_sport[/dailymotion]