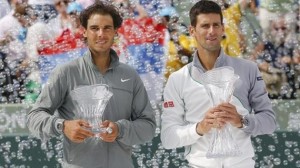 Novak Djokovic won his fourth title at the Masters 1000 in Miami, after 2007, 2008 and 2011. The World No. 2 flew over the final Sunday against Rafael Nadal. If he leads during their confrontation on the circuit, Nadal has often had difficulties against his dolphin in ATP on the hard court (7 victories for 14 losses) and this is still observed on Sunday. The Serbian, imperial on the Florida court, won in two straight sets, 6/ 3, 6/ 3, even concluding the 40th face to face on a break.
"I really enjoyed playing this final, I felt good throughout the game. Against Rafa, I always know what to expect, we no longer have any secrets from each other. I should be at the top of my form and not leave him alone …" said Novak Djokovic after the final he dominated in 1 hour 24 minutes.
It is the 18th career Masters 1000 for Nole now ahead of Andrea Agassa with a title and ranks third in this category behind Roger Federer (21) and Rafael Nadal (26)."He was better than me in all areas of the game, it's as simple as that, admits Nadal who tilted for the 3rd time in a row in the final against the Serb. I can just congratulate him and continue working for the outcome to be different next time." This is the fourth final lost to Nadal in Miami after 2005, 2008 and 2011.
Winner at Indian Wells, the world's No. 2 joined Federer in the ranks of successful tennis players who achieved twice the American double (Indian Wells-Miami).
[youtube]http://www.youtube.com/watch?v=8lgcAcaKAxs[/youtube]